Points Of View offers assistance in producing unique theatrical productions, from script to final show.
Current Projects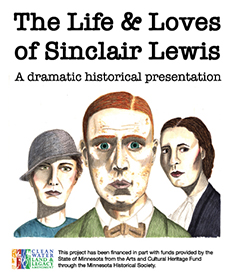 "The Life & Loves of Sinclair Lewis" is an 80-minute stage production set around the celebration of the 100th year anniversary of Sinclair Lewis's best-selling novel, Main Street, and is led by a fictional journalist who is interested in showing how relevant Sinclair Lewis is today. The journalist is able to go back in time and interview Lewis and his two famous wives around issues of narrow-mindedness, authoritarian behavior, racism, a worldwide pandemic, religious hypocrisy, and the personal struggles of becoming a world-famous author.
This historical presentation is being financed with funds awarded to the Sinclair Lewis Foundation by the State of Minnesota from the Minnesota Arts and Cultural Heritage Fund through the Minnesota Heritage Society. It is being produced by Jim Gambone of Points Of View Productions for the Sinclair Lewis Foundation in Sauk Centre, Minnesota.
An audio recording of the production will be available in late 2021 through the Sinclair Lewis Foundation.
The presentation will take place in July of 2021 at the History Theatre in St. Paul, Minnesota. Due to the uncertainties with COVID-19, firm performance dates are not yet available.
---
Past Projects

"It Can't Happen Here" A dramatic reading of the 2016 play adaptation of the 1935 Sinclair Lewis book It Can't Happen Here was performed on Tuesday, October 30, 2018 at the Sabes Jewish Community Center Theater in Minneapolis, Minnesota. Jim Gambone, Principal Partner of Points Of View, was the producer/director of this sold-out reading.
---
to learn more about our Film, Video, audio, & radio productions, check out these pages: